Sustaina­bi­lity

We'll continue to work on solving social issues through our business.
Basic Policy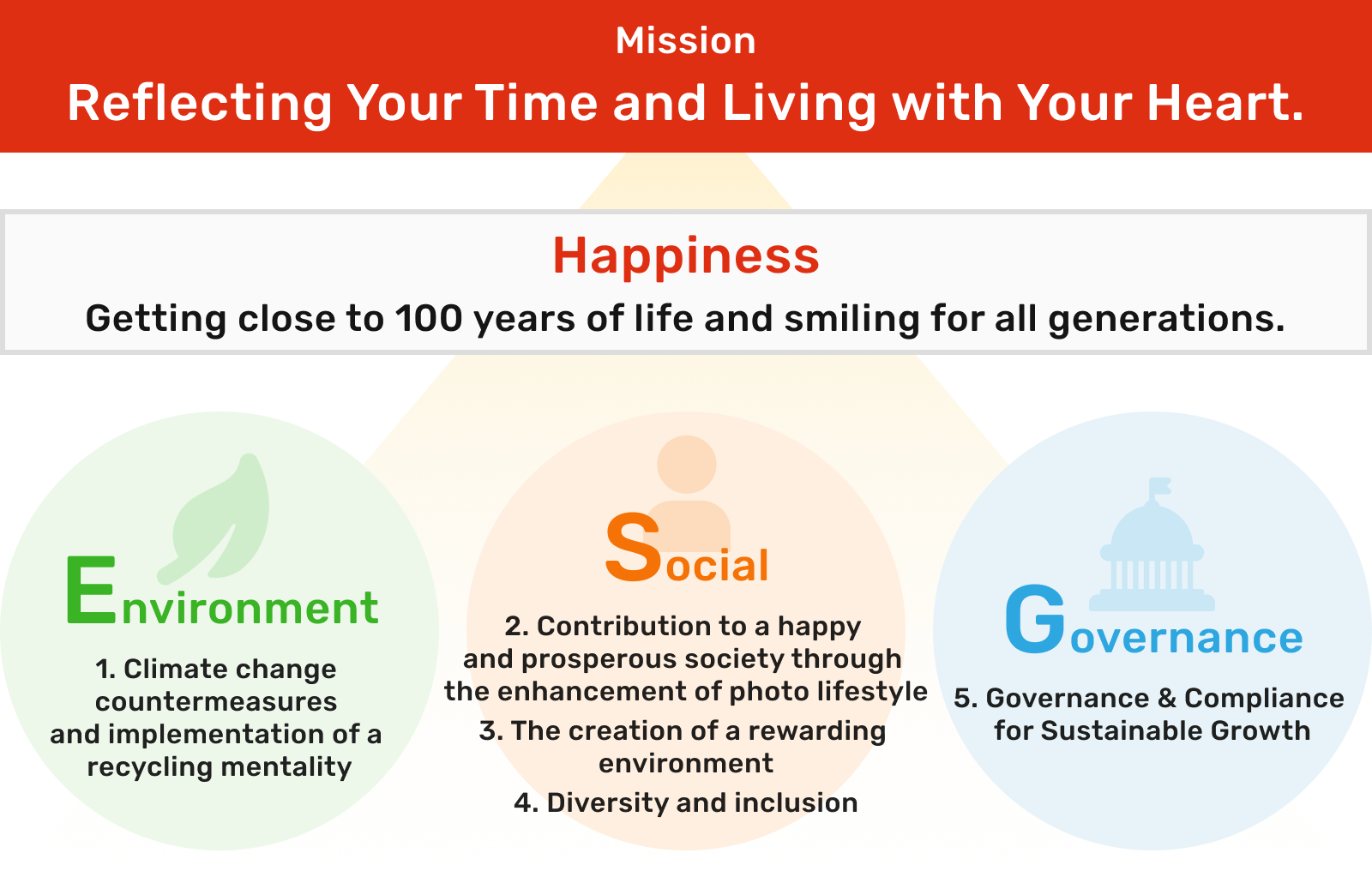 Five Material Issues
Climate change measures and implementation of a recycling mentality

We're concerned with what the group can do now to leave future generations with a planet that's rich in nature and able to sustain life. We'll contribute to the attainment of a society that recycles by reducing CO2 emissions as well as expanding the business of reusing things throughout all group business activities.

Contribution to a happy and prosperous society through the enhancement of photo lifestyle

Photo-related products and services are the main business activities of our group. By providing these services, customer users can enjoy themselves while communicating with others through photography. This makes the lives of our users more enjoyable, which leads to a happier and more prosperous society. We believe that by providing such value to as many customers as possible, society will become happier and more prosperous.

The creation of a rewarding environment

For our customers to feel a level of happiness, we believe that it's important for members of our own group to also be happy. Creating a rewarding environment for members to gain a sense of fulfillment through their work is essential for the growth of the group. We aim to create a workplace where members can take on challenges and grow with peace of mind so that they can be proud of working in the group.

Promotion of diversity and inclusion

Research shows that it's important to bring about innovation for growth, and an organization with abundant diversity of human resources is suitable for such innovation. We'll work to become a group where a wide range of human resources, including gender, child-rearing, long-term care, age, nationality, and disabilities, are able to play an active role.

Governance & Compliance for Sustainable Growth

An appropriate governance system is the base for achieving sustainable growth. We also recognize that compliance is one of the most important items in company management, and as a business operator that handles a large amount of extremely personal information such as photographs and images, we're making maximum efforts to ensure information security. We're endeavoring to secure a system that provides stakeholders with peace of mind.
Process for Identifying Process Materiality (Priority Issues)
Kitamura Holdings aims to create a sustainable society and increase corporate value through its business activities.
To achieve this, we will identify social issues that have a large impact on both our company and society through the following steps, and after exchanging opinions with all stakeholders such as employees and experts, we will set five priority issues (materialities).
STEP 1

Selection of social issues

Based on Kitamura Holdings' mission of "Reflecting Time and Living with Your Heart," we held SDGs workshops to deepen employee understanding and to identify social issues.
In setting social issues, we have incorporated and organized global issues such as SDGs (Sustainable Development Goals) along with the GRI Standards of International Guidelines.

SGDs workshop scenes

STEP 2

Evaluation of issues and determination of priorities

We discussed the issues by formulating the company's priority issues (materialities), by determining evaluation viewpoints for such social issues as "social needs" and "degrees of relevance to business", and by using an evaluation axis to determine the kind of society that can become part of our company's materialities. In addition, we've determined priorities after understanding and reflecting "expectations from society" by conducting interviews with stakeholders such as employees and outside experts.

STEP 3

Determining priority issues (materialities)

It was decided after the discussion of members of the board of directors to receive advice from experts from the three perspectives: E (environment), S (society), and G (governance). These are regarding content formulated as priority issues (materialities) by conducting stakeholder dialogues.

Hearings with experts
Stakeholder Dialogue Participants
Ken Shibusawa Chief Executive Officer, Shibusawa and Company, Inc.

In 2001 Shibusawa and Company Co., Ltd. was founded and became the representative director. Commons Co., Ltd. (currently, Commons Investment Trust Co., Ltd.) was founded in 2007, and became chairman of the board in 2008. The Kishida government's "New Capitalism Realization Conference" member, UNDP (United Nations Development Program) SDG Impact Steering Group member, University of Tokyo President's Office Advisor, Brunswick Group Senior Advisor, etc.

Ken Ito Project Assistant Professor, Graduate School of Media and Governance, Keio University

Research on social impact assessment, 2015 Ministry of Economy, Trade and Industry "Social Impact Bond Study Group in the Healthcare Field" Chairman, Cabinet Office "Mutual Aid Society Creation Council Social Impact Assessment Study WG", in addition to efforts to promote the spread of social impact assessment, social impact bonds, and social investment in Japan, such as serving as committee chairman.

Akira Sakano Director, Zero Waste Japan

Participated in the NPO Zero Waste Academy, which is responsible for the waste policy of Kamikatsu Town, Tokushima Prefecture, which made Japan's first "Zero Waste Declaration". Set to co-chair the 2019 World Economic Forum Annual Meeting (commonly referred to as the Davos Conference) alongside Microsoft CEOs. From 2020, working on the formation and development of a model for a sound material-cycle society at Zero Waste Japan.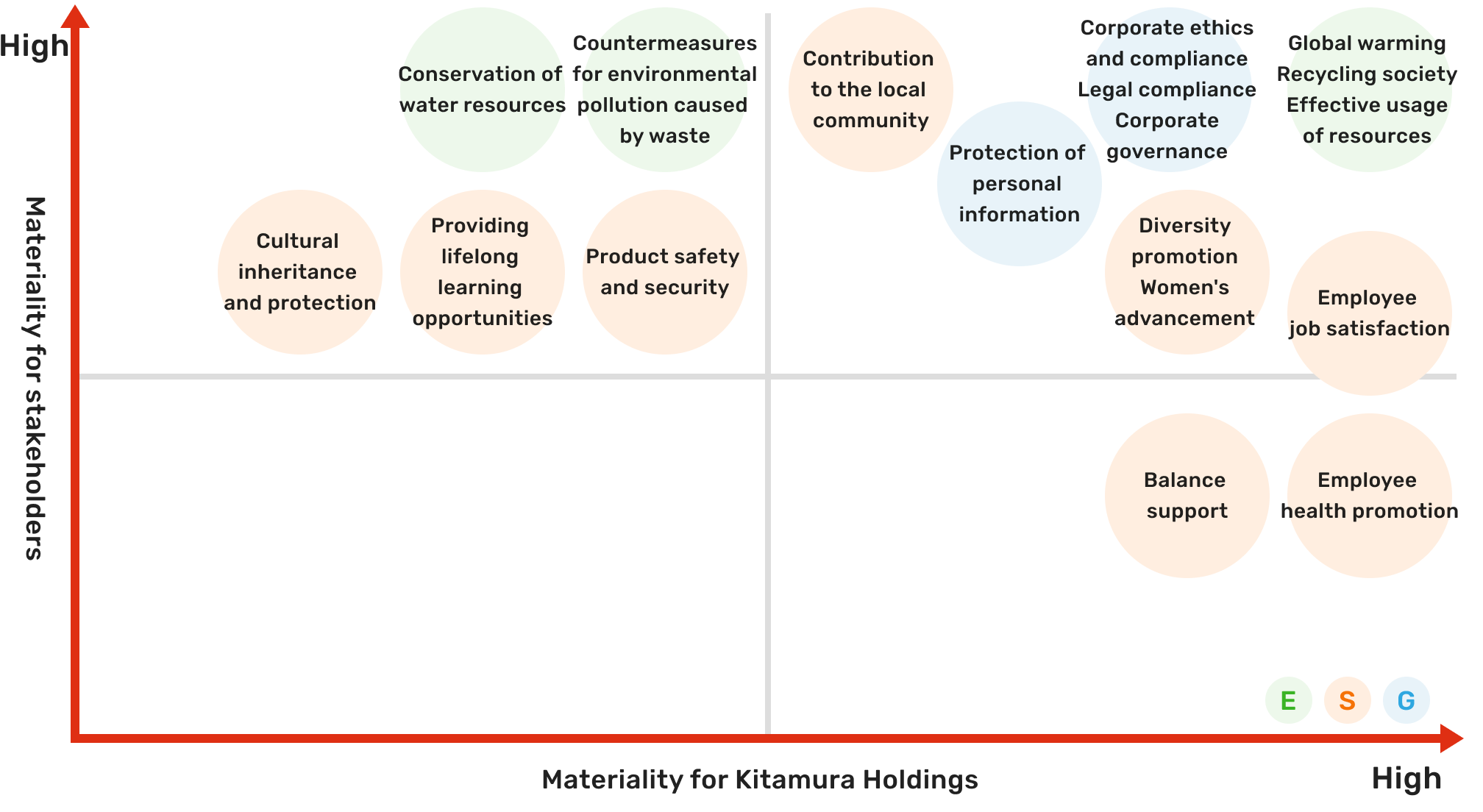 Sustainability Management Systems
Kitamura Holdings newly established the "Sustainability Committee" consisting of directors in February 2022 and the "Sustainability Promotion Office" as a promotion organization in April 2022 to further strengthen and promote sustainable activities.
The Sustainability Committee, chaired by Noburu Takeda, President and CEO of the Company, confirms the progress of sustainability basic policies and goals, deliberates and decides on activity plans, and issues environmental and social issues required of the company. We will continue to promote the expansion of efforts to resolve this issue.
In addition, the results of the examination are reported to the Board of Directors and the Management Committee once a year, and are reflected in the management plan and business activities under supervision.
We will carry out the PDCA cycle in line with this policy and promote sustainability activities.